Auto Service
Auto Service and Repair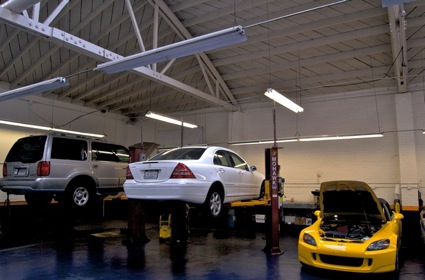 We handle a variety of minor and major auto service, and because we also have a machine shop on site, we can fix your OEM parts without requiring you to buy new ones (read more about our machine shop services here). Whether you have a check engine light flashing or just need a manufacturer recommended service such as a 10k service, 15k service, 30k service, 60k service, or 90k service, we can help! Opened in Berkeley, CA in 1989 we have built a solid reputation in the community. What does that mean for you? You don't have to worry when your bring your car or vehicle for service to us. We stand behind every auto service we do because that is what we would want.
Above all, our trained mechanics are here to keep your beloved vehicle running smoothly and can perform all the standard and not so standard jobs such as, Belt and Hose replacement, clutch repairs, and radiator service. We can also perform more involved tasks like engine repair, brake service, and check engine light diagnostics. We can service a variety of vehicle makes for example BMW, Honda, and Mercedes-Benz. However, here is a more extensive list of some of the services we offer.
Services
Air Conditioning and Heating Service and/or Repair
Brake Service and Repair
Clutch Service and Repair or Replacement
Comprehensive Pre Purchase Vehicle Inspection / Used Car Pre Sale Inspection
Engine Cooling System Service and Repair
Check Engine Light Diagnostics
CV Axle or Boot Service and Replacement
Cylinder Heads or Cylinder Gasket Repair
Drive Belt Replacement and Fan Belt Replacement
Electrical or Electronic Diagnosis Repair
Engine Diagnosis Repair or Replacement
Engine Performance Diagnosis and Repair
Exhaust and Intake Manifold Service
Factory Scheduled Maintenance (5k,10k,15k,30k,60k,90k intervals)
Fuel Injection Diagnosis Service and Repair
Oil Change (includes filter)
Oil Leak Diagnosis and Repair
Power Steering Service and Repair
Preventive Maintenance Service
Shocks and Strut Replacement
Suspension Repair
Timing Belt / Timing Chain Replacement
Transmission Service
Transmission Repair or Replacement
Turbocharger Repair or Replacement
U-joint Service
Valve Adjustment and Cover Gasket Service
Water pump replacement, hose replacement
Therefore if you need auto repair in Berkeley, CA than Wise Auto Tech is the place to come. Firstly, we have the experience and friendly staff to perform your auto service right the first time. Second and Most importantly, we want you to be happy with the work we do and go to great lengths to make sure you stay a customer for life. In conclusion, read some of our customer testimonials on our homepage, or visit a third party site like Yelp or Google and see for yourself what people are saying. Therefore, we are confident that once you experience the difference at Wise Auto Tech you will be a customer for life!
Wise Auto Tech
2323 San Pablo Ave, Berkeley, CA 94702
(510) 665-1060